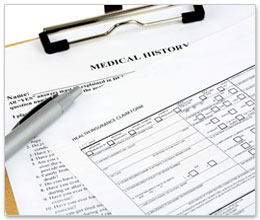 We like to use our appointments to look after medical problems rather than fill in forms. There are many forms which require a doctor's report, such as holiday cancellations, mortgage protection and other insurances. If you leave these forms with our receptionists they will ask the most appropriate doctor to complete them for you. Please allow 14 days to do this. There may be a fee for completion so please enquire regarding the cost as you will need to pay upon collection of the form.
Fit/Sick Notes
A fit note is the informal name for the Statement of Fitness to Work. Fit notes replaced sick notes from 6 April 2010.
The rules on fit/sick notes:
For the first 3 days of an illness your employer does not legally require any fit/sick notes.
For days 4, 5, 6 & 7 you can give your employers a '

Self-Certificate

' fit/sick note. This is a form you complete and does not require a doctor's opinion.
For any illness over 7 days you will need a doctor's note.
If your employer wants a doctor's note for a period of illness less than a week we are not obliged to issue any certificate. Many employers have their own self-certification forms. If your employer doesn't have their own form, instead they may use an SC2 form from HM Revenue & Customs: Employee's Statement of Sickness (PDF). In special circumstances we can issue a private sick note but this will incur a fee.
For illnesses and injuries which have involved the hospital or A&E (such as a broken bone) we are able to use consultant letters as proof of illness and can in many cases safely give you a sick note without you having to come into the surgery. The hospital wards and A&E can issue you with a fit/sick note if you ask them at the time.
If you have a long term illness we are often able to do a fit/sick note from your records without you having to come into the surgery to be seen.
Insurance and Legal Reports
Most insurance reports can be completed from your medical records. Occasionally some companies ask for us to carry out a detailed medical examination. They will let you know if this is the case.
Always make sure you have given us written consent to complete a report about your health. We treat your medical information with strict confidentiality and only pass it on to others with your permission.
Forms for Benefits and Social Security
If you apply for a benefit (such as Disability Living Allowance, Attendance Allowance etc) please do not ask us to fill in your initial application form. There is a misleading part on many of these forms where it asks for 'someone who knows you best' to describe how your disability affects you. This is for a friend or relative to complete. We are sent our own medical form to complete when your application has been submitted. If you are having problems filling in the application form (they can be confusing) please contact Welfare Rights for help. They are specially trained to make sense of these forms.
Private Letters and Forms
We are asked to complete lots of private forms and write letters of support for many reasons other than to care for you during an illness. Most of this work is not covered by the NHS and is considered to be private work. We charge a range of fees for this work (please enquire for prices).
Pre-employment (tick box/longer form)
Fitness to attend sport, school, hobbies (with/without medical)
Freedom from infection certificate
Insurance form, inability to work due to illness
Continuing Disability form
PCV/LGV Driver Certificate (full medical)
Taxi Medical (full medical)
Elderly driving medical
Racing car medical
Holiday cancellation letter or form (patient/insurance company)
Fitness to travel certificate or letter
Ofsted declaration form
Extract from medical records
We are not able to offer completion of passport forms/photos, Power of Attorney assessments, letters for bus passes or personal references.