If you have experienced a problem
If you are not happy with the care, service or treatment you have received in the practice, it is important that you tell us, as we can only put things right if you let us know what is wrong. We try to sort any problems as quickly and informally as possible. In some cases, a word with an appropriate member of staff is all that is needed to put things right. You will not be treated any differently because you have made a complaint.
For more information please read our Complaints Leaflet.
How to complain
If your complaint cannot be easily resolved and you wish to make a formal complaint then it is important that you advise us as soon as possible. You do not need to write a long and very detailed letter but you should include all the points you want to complaint about:
Who or what are you complaining about?
Try to make clear the most important points.
If you are complaining about a member of staff, give their name and their position if you know it.
Where and when the events you are complaining about happened.
What you have already done about your complaint, if anything.
What results you want from your complaint.
To this end, a complaints form is available, from reception or downloadable here, which we ask you to complete:
Comments, Compliments and Complaints Form
Ideally, this should be within a few days of the problem in order that we can establish what has happened much more easily. If you have not been able to do this, then please advise us of your complaint as soon as you can and within 12 months of the incident happening.
All complaints should be addressed to the Practice Manager, or you may find it helpful to make an appointment to discuss your concerns. The Practice Manager will explain the complaints procedure to you and investigate your complaint fully.
We hope that if you have a problem you will choose to use our complaints procedure. We believe that this will give us the best chance of putting right whatever has gone awry, and also give us the opportunity to improve our service by learning from it.
What we undertake to do
You will receive an acknowledgement of your complaint by telephone / letter within three working days of us receiving it. Where possible, we aim to have resolved your complaint within two weeks of the date when you raised the matter with us and no later than six months.
When we investigate your complaint we shall aim to:
Find out what happened, what went wrong and explain this to you.
Make sure that you receive an apology, where appropriate.
Identify what we can do to make sure that the problem does not arise again.
What if I am complaining on behalf of someone else?
We keep strictly to the rules of medical confidentiality. If you are complaining on behalf of someone else, we have to know that you have their permission to do so. A note signed by the person concerned will be needed, unless they are incapable (because of physical or mental illness) of providing this.
Comments and Suggestions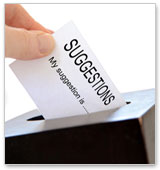 If you have a comment, compliment or complaint then please download and complete the form below and hand it in to reception.
Comments, Compliments and Complaints Form